Beginning registration is through the Got Soccer web site. To start, click on the link below:
Once you have completed registration, follow the instructions at the bottom of this column to complete the process into the tournament.
Additional Information
FINAL COMPETITION LEVEL PLACEMENT IS AT THE SOLE DISCRETION OF THE TOURNAMENT COMMITTEE
Standard tournament rules are posted under the FORMS tab; item #14.
Field/Venue Regulations:
No pets
No smoking
No alcohol
No grills
This is an USSF event for SAY & US Club Soccer teams. If your team is affiliated through any USYSA affiliate, you will need to supply a "Permission to Travel" form from your state association with your application.
If you are registered through MSYSA or any other USYSA organization and denied a travel form, you will be required to purchase CMSA/SAY Academy insurance for participation. Your current USSF ID cards can be used with this roster. Contact scorenews@aol.com for information
Additional information and announcements leading up to and during the event will be posted on this site in the main page under "News" and on our Facebook page located at:
www.facebook.com/groups/CentralMarylandSoccerAssociation
Additional Procedure:
Once you have completed registered through GotSoccer
Mail a copy of the REGISTRATION CONFIRMATION Form you received from Got Soccer, with the registration fee (with the confirmation number on the check) with your preliminary USSF Roster to:
C.M.S.A - OLSC
P.O. Box 18403
Baltimore, MD 21237
For additional Tournament information
E-mail: cmsa.events@comcast.net or scorenews@aol.com
For Hotel/Lodging infomation:
Click on the logo below or e-mail info@wstsports.com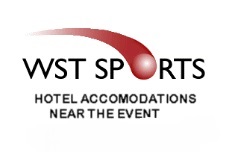 ALL UNBOOKED ROOM BLOCKS WILL EXPIRE ON APRIL 14TH